Blog: Bluetit chicks
22/06/2011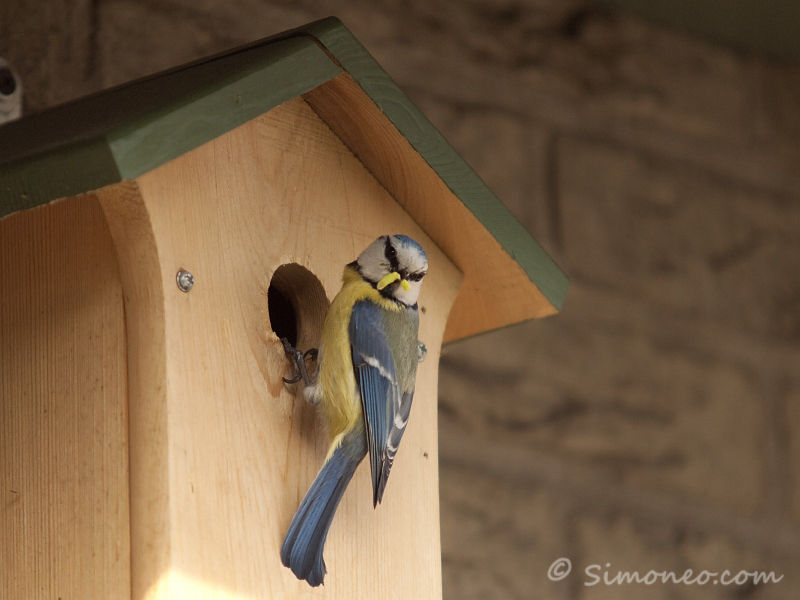 English
Early in April 2011 we were surprised by a couple of bluetits choosing our nestbox to start a family in. After a few weeks of building, the eggs were laid, presumably. Early in May we saw the couple bringing in caterpillars more frequently and after a few days a soft squeaking of the chicks could be heard, grower louder each day.
In the weekend of May 21st the first chick appeared at the entrance of the nestbox. And on Monday morning the 23rd, all nine chicks fledged between 07.15 and 07.30 h.
Nederlands
Begin april werden we verrast door een pimpelmezenpaartje dat onze nestkast had uitgekozen om een gezinnetje in te stichten. Na een paar weken zijn de eitjes gelegd, veronderstellen we. Begin mei zagen we de meesjes af en aan vliegen met rupsjes en een paar dagen later was er een zacht gepiep te horen. Dat werd elke dag luider.
In het weekend van 21 mei verscheen het eerste jong voor de opening van de nestkast. En op maandag 23 mei vlogen alle jongen tussen 07.15 en 07.30 uur uit.